Play Your Cards Right, From Darkness To Light

Do Any of The Following Statements Resonate With You?

I can't figure out what's blocking me.
I'm not where I should be in my life.
Time is passing me by.
Something's nagging at me, and I can't put my finger on what it is.
I want to make an impact, but I don't know how.
I'm confused and stuck.
I'm procrastinating, but I can't break out of it.
There has to be a way, but I've tried everything.
My life is so uncertain right now.
I don't know which way to go.
Therapy is not for me.
I'm at a crossroads.
I'm facing some big decisions.
I don't know which voice in my head to trust.
I feel overwhelmed and trapped, like I'm just spinning my wheels.
I'm not sleeping well.
I'm in a fog.
I'm exhausted all the time.
I feel guilty even asking for help.
I know I should feel grateful for my life, but...
I'm getting desperate.
If Any or All of Those Statements Resonate, I Want You to Know That Here's What People Report After Working with Me:

Suddenly everything's falling into place.
People notice something different about me.
There's a spring in my step.
I feel lighter.
I can sleep again.
Things that used to bother me no longer bother me.
Finally, there's peace in my home.
Now, my kids listen to me, and my husband respects me.
I'm excited to get out of bed in the morning.
My productivity has gone through the roof.
I've found my flow.
I've broken through the old doubts.
I feel like I'm finally getting it.
I'm no longer constantly second-guessing myself.
My heart palpitations have gone away.
I'm finally dating again.
I can confidently speak my mind at work.
I crushed my one-year goals in under six months.
I feel comfortable in my own skin.
I'm happy with myself and who I am. 


Press play to watch this short introductory video:
Hi, my name is Alexander.
I work with people who are yearning to move forward and live their best life.
The problem is they don't know what that looks like or how to get there.
And without a clear map to guide them, they're stuck spinning their wheels, feeling overwhelmed, anxious, and incomplete.
I understand. I've been there.
I had a gnawing dissatisfaction that drove me to search for it, whatever it was that would unlock the full potential of my life.
I studied philosophy at Harvard, worked on Wall Street, was a successful entrepreneur, went to Roman Catholic Seminary, tried every psychedelic drug, hiked the proverbial mountain in India to meet the Guru, meditated 8 hours a day, became a Swami, studied with Shamans, and read every spiritual development book I could find.
Finally, through all my searching I found it, hidden in the deck of 52 playing cards.
And because I'm devoted to elevating humanity, I started a non-profit organization to share it with people just like you.
I also developed the Source Coaching program, which is a 13-Step plan that, not only guides you home to yourself, it leads you to the next level of your life. 
I've now been coaching individuals for over a decade and the results I've seen are life-changing and often miraculous.
In the Source Coaching program, people grow by leaps and bounds.
For you too, once you have it, your life will flourish and blossom in ways you didn't even imagine were possible.
The first step is easy.
Start with your Soul Attunement Consultation, so you can break out of the rut you're in now. For many people, this one consultation is enough to set them free. 


Soul Attunement Consultation
So You Can Move Forward And Live Your Best Life
A laser-sharp consultation to find out what's really holding you back, so that instead of getting stuck behind hidden, shadowy obstacles, you can blossom into the best version of yourself.
Common types of questions I hear and can answer for you include:
How do I realize my full potential? How do I live my true purpose and make my biggest impact?
I'm at a crossroads in my career. Which path do I take next?
Do I stay in my marriage, or I do leave and move on?
I want love. How do I attract my soulmate? 

I don't need a therapist, I just need someone who I trust who can give me clear guidance. Can you help me?
Yes. I can help you.
From this Soul Attunement Consultation, you'll gain clarity, inspiration, and immediate action steps.

Your Investment For A Soul Attunement Consultation

A 25-Minute Consultation for a limited time is Only $77
A 50-Minute Consultation, instead of $397, is $297 
A 75-Minute Consultation, instead of $497, is $397


The 25-Minute Soul Attunement Consultation is a great starting point.  Or, for a more in-depth personal Attunement, I recommend at least the 50-Minute Consultation.
Once you purchase your Soul Attunement Consultation, you'll be directed by my assistant to set up the date and time of your appointment via Zoom/Skype/phone.
I look forward to helping you move forward and live your best life.
with love,
Alexander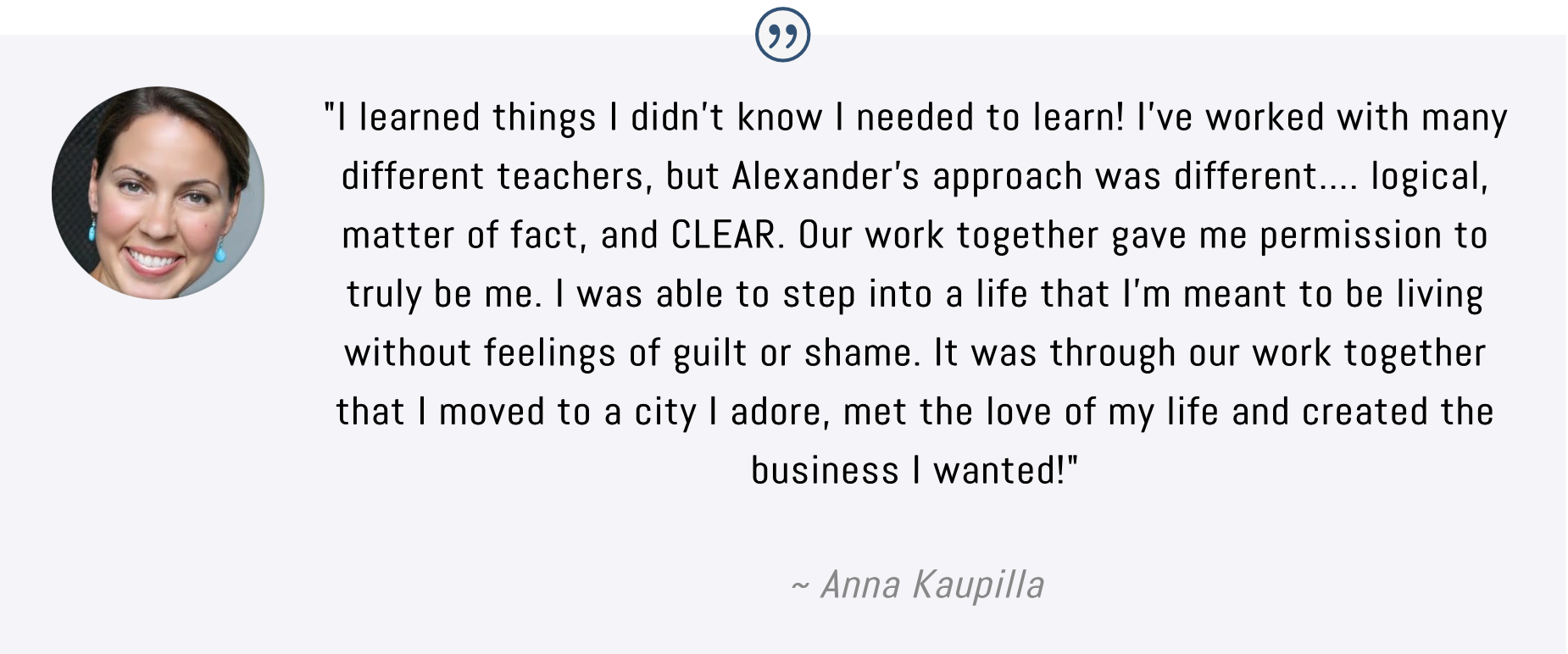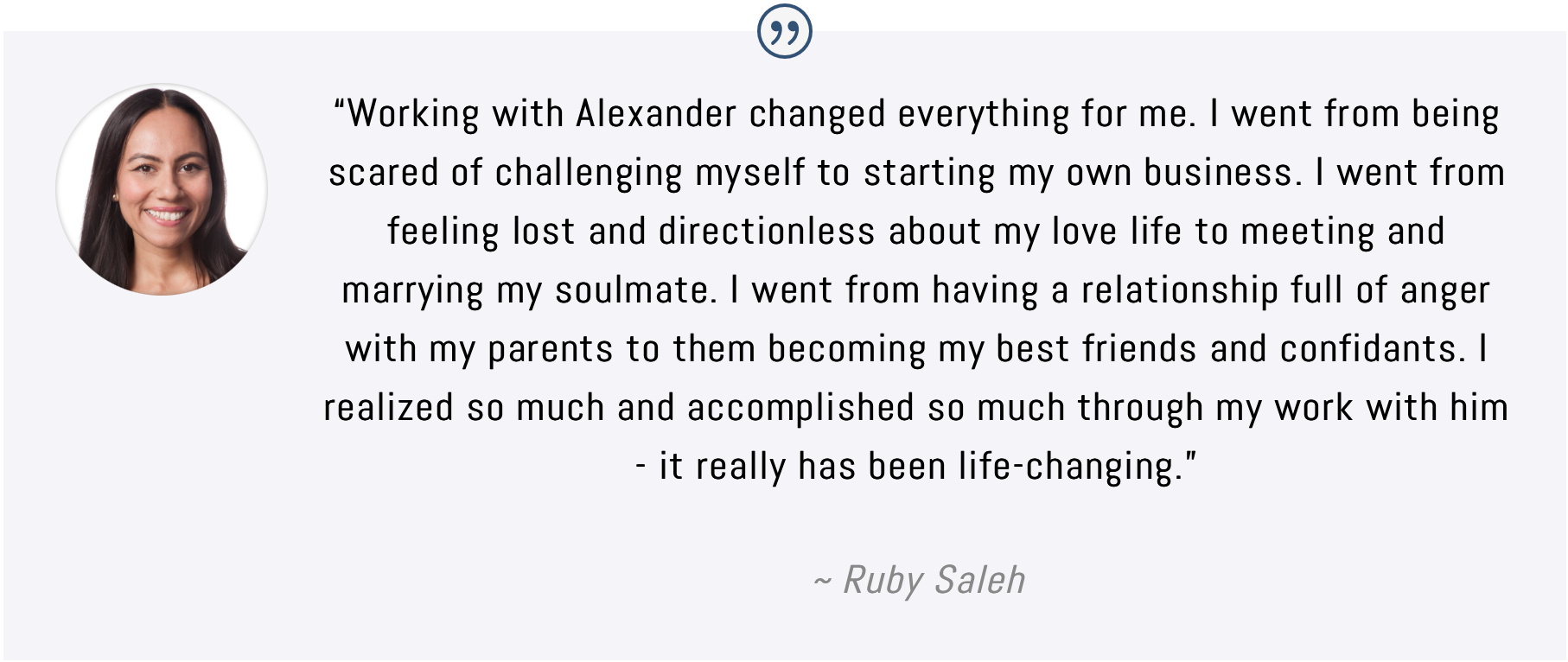 Who Are My Typical Clients?
Over the years I've noticed a common theme...


I've worked with CEOs who want to do the work of their soul. 
I've worked with lawyers who read Rumi...
  with bankers who practice Vipassana...
  with business owners who know their Power Animals...
  and executives who check in with their Spirit Guides.
I've worked with entrepreneurs who want to be enlightened.
I've worked with celebrities who want to celebrate what matters most.
I've worked with professional athletes who want to master the game of their life. 
I've worked with grandmothers who want to start their own business.
I've worked with young men who want to make their biggest impact.
I've worked with parents who want peace and harmony in their home.
I've worked with strippers who want an authentic relationship.
I've worked with women who want to lose weight, and I've worked with men who want to beef up.
I've worked with religious Jews, Muslims, Catholics, Buddhists, Hindus, Agnostics, Atheists, New Age believers, and everyone in between.
I've worked with people who were unemployed, and I've worked with career-bound workaholics. 
Single. Married. Young. Old. Cynical. Optimistic. I've worked will all types of people.
But they all share one thing in common:
I work with people who are burning to break through whatever is holding them back from having the life they know they could have.