Give Yourself a Gift of Clarity

Get Answers to Your Biggest Life Questions
In One Reading with Alexander
In one Soul Reading with Alexander, you can...
Validate what's right for you

Dissolve hidden insecurities



Hit the fast-forward button on your life


Soul Reading With Alexander
$
397.00
"I had done a series of 10 Reiki sessions a few years ago, and they changed my life. But just one session with Alexander was more powerful than all those 10 sessions combined!"
Rey Allen
Owner, Rolfing FW
"I consider myself a fast-track person. I want the most effective, efficient means to accomplish a goal. And Alexander gave me more knowledge about myself in 10 minutes than I got from a whole year of therapy."
Elijah Sacra
Executive Director / Warrior Wellness Solutions
Life-Changing Answers To Questions Like...
I feel stuck in a fog, trapped by my past. How do I move forward from here?

I want love. How do I attract my soulmate?
I just met someone. Is this person a good match for me?
Do I stay in my marriage? Or I do leave it and move on?
I'm at a crossroads in my career. Which path do I take next?

Is this the right time for me to make a move / start my own business / get married?
I want to shine my brightest light and make my biggest impact, but I don't know what that looks like or how to do it. Can you help me?

Yes, I can help you.
In one Soul Reading, you'll gain clarity, inspiration, and practical guidance to take decisive action in your life.

"I went home and I was weeping tears of joy. Everything you revealed for me was painfully and beautifully true. With your guidance, I'm now making much better choices in my life, finally taking care of myself for once! And whenever I need a reminder, I just close my eyes and I see my Cards laid for me, and it fills me with such joy."
Chellise Michael
Owner, Chellise Michael Photography
"Now, all of a sudden everything is falling into place. Business projects that stalled for years are now coming together in less than a week. And I'm learning and growing so much. I'm like a kid in a candy store. And you have have been the key to this. You got all this started. You put me on the right track. Thank you, Alexander for what you do."
Craig Stucko
R & D Manager, Royal Products
Hi, my name is Alexander.
I work with people who are yearning to move forward and live their best life.
The problem is they don't know what that looks like or how to get there.
And without a clear map to guide them, they're stuck spinning their wheels, feeling overwhelmed, anxious, and incomplete.
I understand. I've been there.
I had a gnawing dissatisfaction that drove me to search for it, whatever it was that would unlock the full potential of my life.
I studied philosophy at Harvard, worked as a consultant on Wall Street and as a director of marketing for a software company. I was also a successful entrepreneur.
But I was looking for something more in life, and I didn't even know what that more was. It was an inner yearning that drove me.
I went to Roman Catholic Seminary, tried every psychedelic drug, travelled to India and hiked the proverbial mountain to meet the Guru, meditated eight hours a day, became a Swami, studied with Shamans, did plant medicine ceremonies, and read every spiritual development book I could find.
Finally, through all my searching I found it, hidden in the deck of 52 playing cards.
And because of how powerfully and beautifully this knowledge transformed my life, I decided to share it with everyone.
My family thought I was crazy to start a professional practice to guide people to play their cards right. But I knew I'd found my calling.
I've now been coaching individuals to play their cards right for over a decade, and the results I've seen are life-changing and often miraculous.
People tell me I have a gift to do this work, that I have an "eagle-eye" to zoom in and tell them exactly what they need to know.
What I know is that I love helping people breakthrough to the next level of their lives. It's why I'm here.
And whatever is your big breakthrough in your life, it starts with clarity.
I invite you to give yourself a Gift of Clarity.


"Alexander is a master. And it's a very rare and special thing to find someone who is a true master."
Peter Roth
Founder & Director / The Heart River Center
"Alexander is truly an angel, powerful and gentle at the same time."
Alegria Ford
CEO / Alegria Media
See Your Life Clearly: Connect All The Dots
Based on your date of birth, you have a Life Path of 13 Cards with additional Gift Cards and Challenge Cards.
Altogether, these 13+ Source Cards are your Soul's Blueprint for this lifetime. 
And in all my own searching for answers, it's the most accurate map of life I ever found. 
What does it mean for you?
By reading your complete Soul's Blueprint and connecting all the dots you'll suddenly see your life with crystal-clear clarity.
It will all make sense...
Why does this keep happening in my relationships?
Why am I stuck in my career?
Why am I struggling with money?
Why can't I seem to get ahead?

It's all in the cards, pun intended! Jaw-dropping accuracy and practical action steps...
Your life's purpose... w

hat you're really gifted to do and how to use those gifts

Your relationships... what sabotages them and how to transform those negative patterns into healthy, supportive dynamics

Who is the right romantic partner for you and how to attract your soul mate

What are the immediate next steps for to take next in your career

Plus, finding out how to play your cards right fits together like a hand-in-glove with other therapeutic / coaching / healing modalities.
You can accelerate your personal growth by incorporating what you learn in your Soul Reading into any other modalities or methods you may already be using.
Break through to the next level of your life.



Is This The Right Time? And Is This Right For You?

Well, do any of the following statements resonate with you right now?

I don't know which voice in my head to trust.
I feel lost and depressed wondering why I'm even here.
I'm trapped in a relationship that creates cycles of negativity and anger. 
I'm yearning for romance, but I wonder if my soulmate even exists.
I've tried every diet, but I just can't lose the weight.
I'm not where I should be in my career, and I'm getting passed over for promotion.
I know what I need to do, but I'm procrastinating. I don't know why. And it's eating me up inside.
I've already spent a ton of money on self-help, and I still feel stuck.


If you do resonate with any of those statements, here's what people say right after their Soul Reading with me...
Now, I'm excited to get out of bed in the morning.
My productivity as gone through the roof.
My heart palpitations have gone away.
I'm no longer constantly second guessing myself.
I can finally sleep again.

I finally started dating again… and I met someone.
I'm amazed. I spoke to my boss and I got exactly what I wanted.
I was skeptical. I never imagined this would work. I didn't dare hope for so much.
It's like… I'm actually happy with myself now.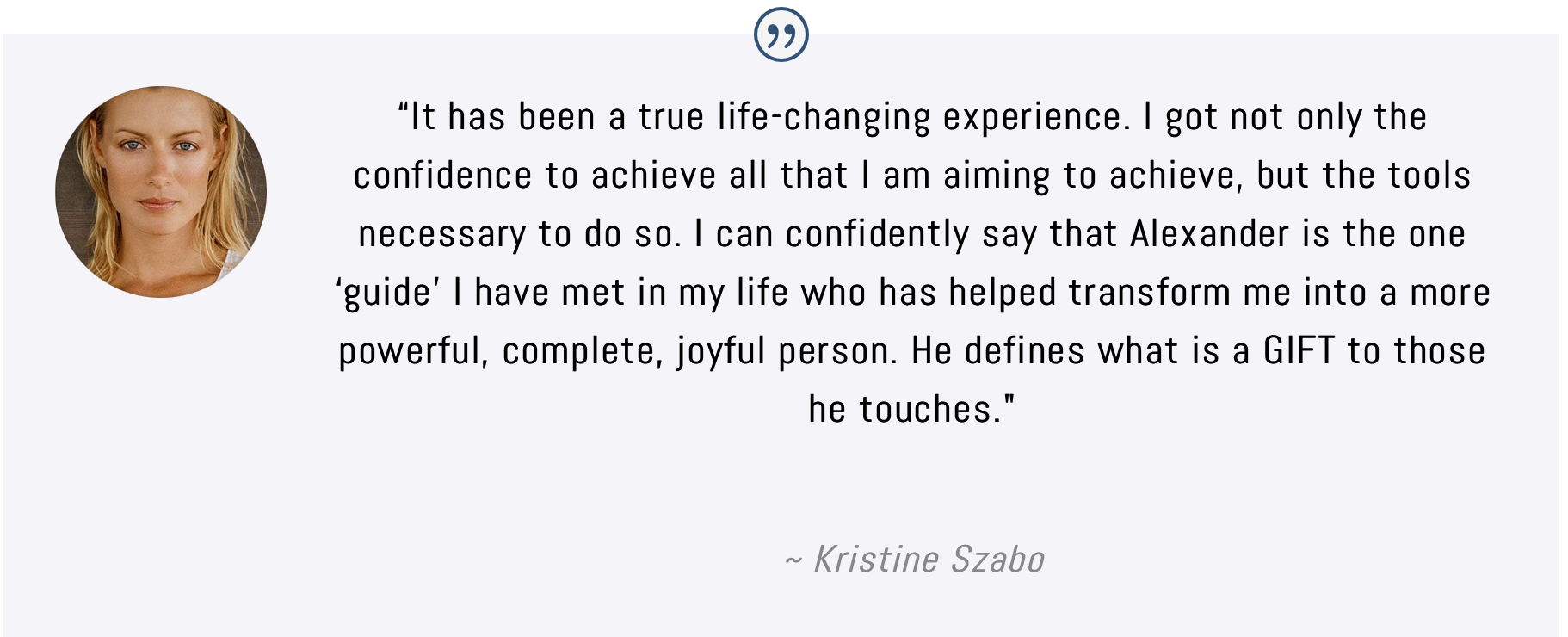 A Soul Reading Consultation With Alexander
A Complete Soul Reading is 75-Minutes and $397
For first-time clients and for people who really want to absorb the information and integrate it into their lives, I recommend the 75-Minute Soul Reading.
Once you purchase your 75-Minute Soul Reading, my assistant will email you an intake form with these three questions:
What's your date of birth?

What are the birthdays of the important people in your life?      Spouse / partner / love-interest / parents / children / best friend etc.

What life question(s) do you want answered? What do you want to know?
That's it. Simple. Email me back your responses, and I'll prepare your Soul Reading.
Then, we'll meet over Zoom/Skype/phone at an appointment time that my assistant will also schedule with you. 
And then, all that is required of you is to show up to your Soul Reading with an open heart and an open mind. 


Book Your 75-Minute Soul Reading
The 50-Minute Soul Reading for $297
A complete Soul Reading packed into 50-Minutes. Recommended for busy people who thrive once they get the overview that puts all the pieces together.
Over the years, I've found that CEOs and business executives prefer this option.
It's the same Soul Reading. And it will still give you detailed answers.
But we'll have less time to talk about what it all means and how to apply the information in your life. That's OK. Maybe all you really need are a set of clear directives, and then you can take it from there.
Once you purchase, my assistant will email you the same three question intake form (see above) and schedule our appointment for Zoom/Skype/phone.
Then, all that is required of you is to show up to your Soul Reading with an open heart and an open mind. 

Book Your 50-Minute Soul Reading

A 25-Minute Soul Reading for $197
Recommended for people who have a quick, pressing question or for people who want a follow-up Soul Reading consultation.
This 25-Minute laser-sharp, straight-to-the-point guidance is perfect for...
Tactical career decisions: "This just came up at work. I'm not sure how best to resolve it."
Dating decisions: "I've just met someone! Are we a good match?"



There are no intake questions for this 25-Minute Soul Reading. Either I'll already have your birthday information on file from a previous Soul Reading, or if you're a new client, you can tell me once we get on the call.
And as with the other options, once you purchase your Soul Reading, my assistant will email you to set up the date and time of your appointment via Zoom/Skype or Phone.

Book Your 25-Minute Soul Reading

Whichever Soul Reading you choose, I look forward to meeting with you and showing you the doorway to your best life.
with love,
Alexander

Answers To Frequently Asked Questions

1. Do you predict my future?
No. Some people do use these same Cards for fortune telling, to "read your destiny." But that's not what this Soul Reading is for.
In this Soul Reading, you'll discover your personal template for how you best operate in life, and thus how you can create your best life. It's like getting the map that shows you exactly how to get where you want to go in life. Then, it's up to you to use the map.


2. Can I record my Soul Reading?
Yes. In Zoom and Skype, it's easy. It's built in to the technology; you can hit the record button if you want to. If we do a phone consultation, you'll need to find another way to record it. I don't record it for you, but you are welcome to record it.


3. Once I purchase my Soul Reading, how soon can I meet with you?
I keep space in my schedule for new clients. So, we can typically schedule you in within two-three weeks of your purchase and sometimes sooner.


4. Is this like an astrology reading?
Yes and No.
Yes, it is like an astrology reading in the sense that the 13+ Cards in your Life Path reveal all the different aspects of who you are, your shadow side, your life lessons, relationship patterns, financial karma, difficult challenges, keys to success etc.
No, it's different because the Source Cards are their own complete language and toolkit. They are a visual, symbolic language that reveals the fabric of reality itself. What people often tell me is that their Soul Reading from the Source Cards hits closer to home, is simpler to understand,  and gives more practical guidance than an astrology reading.  


Gift A Soul Reading Consultation To Someone You Love
Do you know someone who would benefit from gaining clarity, direction, and inspiration?
We have beautiful Gift Certificates you can use to gift someone either a 75-Minute, 50-Minute, or 25-Minute Soul Reading Consultation.
When you place your order, we'll email you to ask if you would like the Gift Certificate mailed to you (or your recipient). And if so, we will mail an actual 2.5 x 4 inch Gift Certificate printed on laminated card stock. (Please allow 5-10 days for shipping.)
Alternatively, we will email you a digital image you can print.